Go back
Recordings 2nd series of EmConSoil webinars available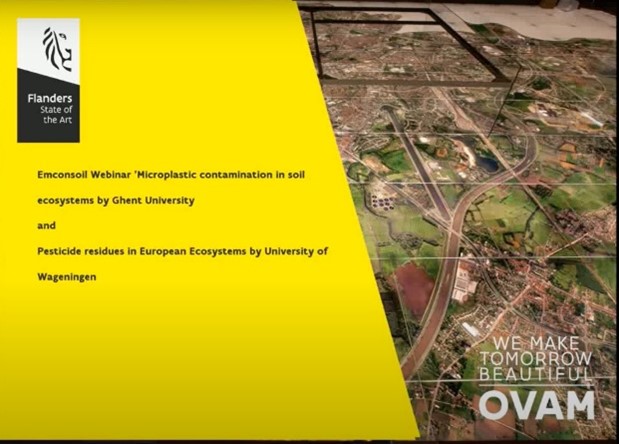 The second series of EmConSoil webinars took place in March 2023. Seven speakers (researchers, consultants and contractors) presented the highlights of their research on PFAS.
During the first webinar (on 9th of March) Professor Lieven Bervoets and Dr Thimo Groffen (both UAntwerp) talked about the importance of bioavailability and bioaccumulation in assessing the risks associated with micro-pollutants. Where Lieven Bervoets talked about the general aspects, Thimo Groffen elaborated on the bioavailability and eco(toxi)logical effects of PFAS.
In the second session (March 16), the presentations covered two specific methods for treating PFAS contamination. Wouter De Weirdt (Tectero BV) gave insight into the potential of NTP (Non-Thermal Plasma) for the destruction of PFAS in water. William Leys (AECOM Belgium) explained how PFAS can be removed by electrochemical oxidation.
However, there is more than just PFAS. In the third webinar (March 23), Professor Caroline De Tender (Ghent University/ILVO) questioned whether microplastic contamination in soil ecosystems will affect plant and soil health. Similarly, Professor Violette Geissen (Wageningen University) wondered about the hazardous characteristics of pesticide residues across European soils.
To conclude the series of webinars, Hans Slenders (Arcadis Netherlands) asks us to put things in perspective: should we shift to more stringent target values considering the level of current ambient concentrations?
All webinars can be found on the OVAM YouTube channel. You can watch them by simply clicking the link in the webinar programme overview here below.

Date
Subject
Lecturer
Link to recording on YouTube
March 9
"Micro-pollutants of concern: presence in the environment, bioaccumulation and ecotoxicological consequences"
Lieven Bervoets / Thimo Groffen - Antwerp University, Dept. Biology
Video
March 16

"PFAS destruction in water via non thermal plasma (NTP)"

"DE-FLUORO - PFAS destruction solution through electrochemical oxidation"

Wouter De Weirdt – Tectero BV

William Leys - AECOM Belgium

Video
March 23
"Microplastic contamination in soil ecosystems – will it affect plant and soil health?"
"Pesticide residues across European ecosystems and their hazardous characteristics"
Caroline De Tender - Ghent University, Dept. Biochemics en Microbiology / ILVO
Violette Geissen – Wageningen University, Dept. of Environmental Sciences
Video
March 30
"PFAS, deal with it! Putting things in perspective."
Hans Slenders - Arcadis Netherlands
Video
Topics for next series wanted!
For the next series (autumn 2023), we invite (international) stakeholders to participate in our webinars. You can submit your suggestions via the EmConSoil website.